The AgroChemEx, one of China's largest exhibitions in the agrochemicals market was held from October 16 to 18 in Shanghai. Business and Market Intelligence firm Kcomber was attending the exhibition and is giving an overview of China's and the global agrochemical industry with insights into the event and the impact.
About AgroChemEx
The AgroChemEx (ACE) in China is a yearly exhibition around the agrochemical industry, organized and carried out by the China Crop Protection Industry Association (CCPIA). The first exhibition of this kind took place in 2005 in Nanjing. With a rising number of attendees and exhibitors, the event gets more popular with industry players coming from countries like Thailand, India, Iran, Turkey, Russia, the USA, Australia, and Germany, among many others. After all, more than 600 exhibitors are expected to take part in the exhibition in 2017, which includes 80% of China's pesticides producers.
Founded in 1982, the CCPIA, with its 614 plus members, has become a major force in China's crop protection industry. It was one of the earliest trade associations in China's chemical field. It is a non-profit national institution covering different regions, organizations/departments and industries, and possesses independent legal person status.
Exhibitors are not only manufacturers in the pesticide formulations and technical industry, but also additives and intermediates producers, environmental protection and packaging equipment enterprises, consultancy companies, logistics service providers, and market analysis businesses.
The time of the exhibition was 15-17 October 2017. It was hold at the Shanghai World Expo Exhibition and Convention Center from 9:00-18:00 on all three days. The organiser is the China Crop Protection Industry Association.
Who is CCPIA
CCPIA is one of the earliest professional industry associations in China, which was founded back in April 1982. Up to now, the organization has become the most renowned & authoritative agrochemical organization of China. It aims to provide services for the government and the agrochemicals industry and connect companies and officials for a sustainable and effective development.
It is a non-profit organization registered as an independent legal entity under the Ministry of Civil Affairs in China. Furthermore, the association is one of the earliest industrial associations that have obtained approval from the former Ministry of Chemical Industry. Currently, the organization is supervised by Ministry of Information and Technology and Ministry of Civil Affairs, complying strictly with the law.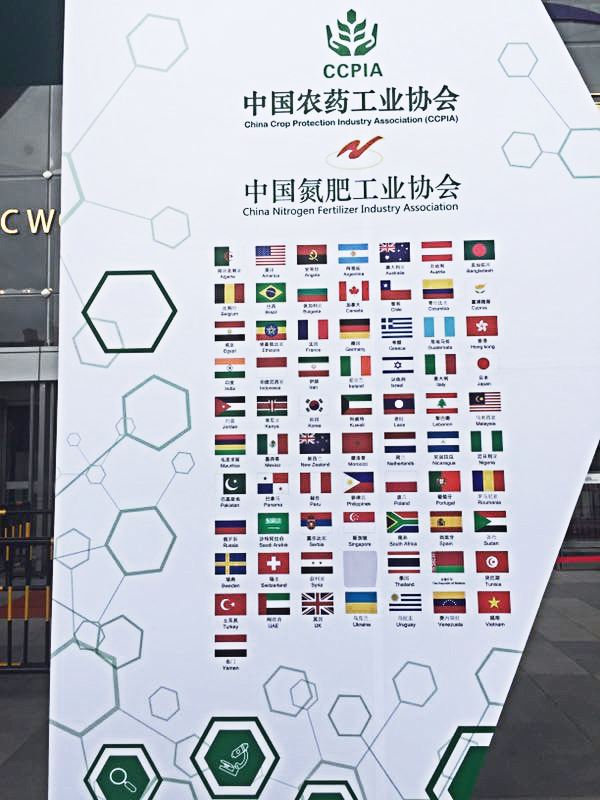 The CCPIA has focused on building connections between government sectors and pesticide manufacturers as well as among these manufacturers and promoting international cooperation. Currently, CCPIA has more than 600 corporate members, which are constituted from manufacturers, universities and institutes all around China, engaged in the R&D, or the production of pesticide TC and intermediates including adjuvants or only operation of pesticide, formulations and packaging, manufacturing of equipment. Together, they contribute over 85% of the whole domestic industry in terms of production volumes.
In the course of the more than two decades period since its establishment, CCPIA has undergone rapid development, witnessing its members increased from the originally 45 to 445 at present, covering producers/ enterprises, R & D and design institutions, universities and colleges, provincial/municipal pesticide associations related with technicals and formulations, intermediates, auxiliaries, packing materials, packing equipments and applying machines, etc. CCPIA members companies' production value accounts for 85% of the national total pesticide production.
What is the role of Kcomber in China's agrochemicals industry
Kcomber is a business and market intelligence company based in Guangzhou in the South of China. The enterprise provides leading knowledge management solutions for business intelligence, market research, and big data controlling. Part of the technology-driven solutions are a global trade analytics platform, various company data applications, and China's largest archive for agrochemicals market research. Kcomber is running mainly through the two main brands CCM and Tranalysis.
CCM is the agrochemicals market research and intelligence brand of Kcomber, dedicated since 2001 to providing international and domestic companies with unique and premium insights in China's hardly transportable market. The brand becomes especially known to be the main source for many global players for China's glyphosate situation in the background of international discussions and China's leadership in production and export of the major herbicide in the world.
Recently, CCM has established an online platform for all the many years' research information in form of reports, market data, and newsletter which can be subscribed online to gain full access to China's pesticides and fertiliser market insights. The platform is being continuously equipped with more tools like a forecast function, company-specific research, and e-commerce analyses to integrate big market data with innovative screening and processing algorithms.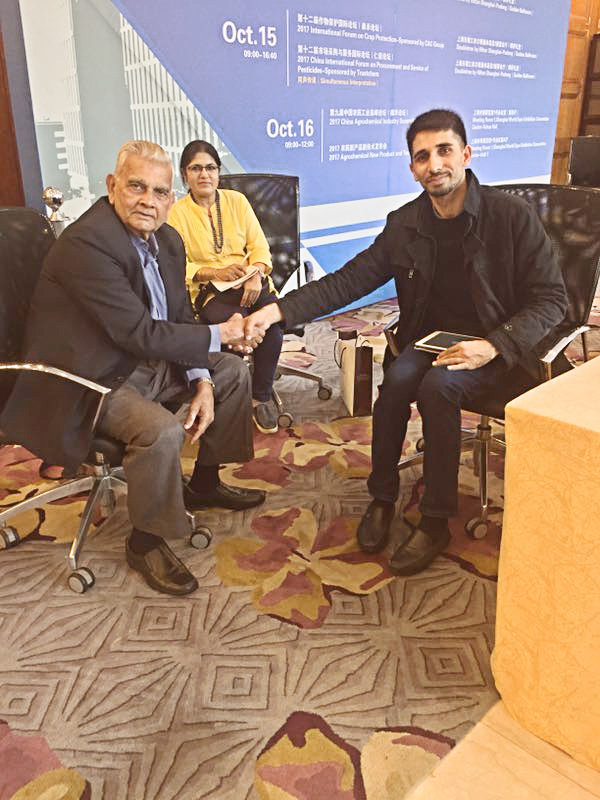 Tranalysis is Kcomber's import and export analysis brand. Gathering the original agrochemicals trade data from Customs all over the world, Tranalysis researches the manufacturers and end-consumers behind the traders and provides on this way valuable information for clients to be better prepared for negotiations of business partners, find the best areas to invest, and manage their global supply chain.
The brand has also launched an online platform called IE Wizard, which turns the raw customs data and research results automatically into visualized charts to generate convenient trade reports with just a few clicks. Based on the worldwide Customs import and export information, IE Wizard connects all related commodities and enterprises in real trade flows.
What is happening in China's agrochemical industry
With over 60 years of steady development, China has become the worldwide biggest production base of pesticides. China's pesticide output had kept an uptrend in 2010-2015, with a CAGR of 9.81%, reaching 3.74 million tonnes in 2015. Meanwhile, its output value grew at a CAGR of about 12.8%, hitting USD42.8 billion in 2015.
However, there are many problems in China's pesticide industry, such as overcapacity, inefficient production technologies, capital shortage, few well-known brands, and serious environmental pollution.
In 2016, China's total output of pesticide technical reached about 3.78 million tonnes, up by 0.99% compared with that in 2015. Hence, the market remained flat. Notably, in the years 2012 to 2016, it has been growing at an average year-on-year growth rate of 1.57%. Of the whole pesticide industry, the output of herbicides was accounted for 46.93% in 2016.
Chinese pesticide producers have been facing increasing production costs in China, which results from the increased environmental pressure by the government, conducting regular inspections.
China's import volume and value of pesticides decreased in 2016, reaching 84,000 tonnes and USD673 million respectively; while its export volume and value increased to 1.40 million tonnes and USD3,716 million, up by 19.23% and 4.79% year on year respectively.
China's most important province in terms of pesticide production in Jiangsu Province, located north of Shanghai in the economically strong east region of China. This province is responsible for about 40% of the total pesticide output in China, producing 550,000 tonnes each year.
The government is modernising the agricultural production by limiting and banning the use of high-toxic pesticides to develop into an environmental friendly cultivation method. According to CCM, there are 39 pesticides that are completely banned for the use in China and more are restricted to only be used for dedicated crops. Notably, most of the banned pesticides in China are insecticides.
From the future period of 2017 to 2022, 34 active ingredients in the agrochemical market will come off their patent. Those 34 agrochemicals are divided into 15 herbicides, 7 insecticides, 11 fungicides, and one safener.
China's domestic market as well as the international pesticides market furthermore are struggling with adversities, like sluggish demand, bans on an increasing number of pesticides, and a significant oversupply.
Not sufficient investments in R&D
The number of new registrations can show market trends to some extent. 2,4-D, dicamba, glufosinate-ammonium, mesotrione and flumioxazin are herbicides registered the most in 2016; thiamethoxam and nitenpyram are insecticides with the most registrations; and pyraclostrobin, boscalid, trifloxystrobin and epoxiconazole were the most commonly registered fungicides in 2016.
It's worth noting that the number of new registrations obtained by foreign enterprises in 2016 was the same as that in 2015, while the number of new registrations obtained by domestic enterprises decreased sharply in 2016. What's more, among the 12 firstly registered pesticide technical, 8 were registered by multinational corporations and four were by domestic ones, which can be seen that foreign enterprises surpass domestic enterprises in the R&D of pesticide technical.
According to statistics from 86 pesticides with independent innovation from 1995 to November 2016, totally 37 research units are involved in the research of invention. Among these, in terms of the number of pesticides invented by research unit, Shenyang Research Institute of Chemical Industry ranked the first with 14 pesticides, followed by Zhejiang Research Institute of Chemical Industry Co., Ltd. (seven pesticides), and Central China Normal University and Nankai University (six pesticides respectively). While regarding the number of pesticides invented by an enterprise, Qingdao King Agroot Resistant Weeds Control Co., Ltd. took the first place with four pesticides, followed by Jiangsu Yangnong Chemical Co., Ltd. with three pesticides.
The R&D development is a crucial factor for China to meet the strict quality and safety requirements for food. It also supports a better reputation of Chinese manufacturers to ensure the acceptance in export markets. Both, the Chinese government as well as the domestic manufacturers are fully aware of the importance of innovative pesticide development and have increased their investment in the R&D segment significantly.
In H1 2017, the total R&D investment of the 20 main listed pesticide enterprises in China hit USD122.54 million, up by 33.26% year on year. Among them, two recorded year-on-year drops in their R&D investment. And the top three enterprises by R&D investment were Huapont Life Sciences Co., Ltd., Jiangsu Yangnong Chemical Co., Ltd. and Zhejiang Wynca Chemical Industrial Group Co., Ltd.
China's top pesticide manufacturers
China's pesticide production is mainly concentrated in East China including Jiangsu, Shandong, Henan and Zhejiang provinces, in terms of both the number of producers and tonnage, with the subtotal output contributing nearly 70% to the national total pesticide output. Thereinto, Shandong and Jiangsu provinces are the most important regions for China's pesticide production.
In China, the total number of pesticide producers was estimated to be over 4,000 as of 2015. The total fund for new product research of the whole pesticide industry in China is no more than USD0.07 billion annually, much less than that of even a single multinational player, such as Bayer CropScience, whose annual expenditure on innovation reaches about USD0.6 billion.
The total combined pesticide revenue of 2017 China top 100 pesticide enterprises reached USD16.55 billion in 2016, with a year-on-year decrease of 0.77%; while the total pesticide formulation revenue of 2017 China top 30 pesticide formulations enterprises was USD2.16 billion, down by 12.34% year on year.
The CCPIA, the organiser of the ACE, has published a list of the top 100 pesticide enterprises in China in terms of their pesticide revenue in 2016. As revealed by the statistics in the 2017 list, there was a large polarisation in the enterprises' pesticide revenues, caused by poor industry development, strict environmental regulations, policies on paraquat and mergers & acquisitions among enterprises. Thirty-nine enterprises achieved pesticide revenue of more than USD150.60 million in 2016, one enterprise less than last year. Besides, the total pesticide revenue of the top 10 enterprises reached USD4.82 billion in 2016, up by 3.97% year on year. The threshold of entering the 2017 list fell to USD46 million from USD51 million a year earlier, down by 11.20%.
The first and second rank on the list of the top 100 pesticide enterprises has both climbed 2 and 3 ranks, respectively, in comparison to 2016. Those two companies are Nutrichem and Shandong Weifang Rainbow. Nutrichem is also the only Chinese pesticide manufacturer with a pesticide revenue of more than USD685 in 2016. The third rank on the list is Fuhua Tongda Agro-chemical, a company based in China's Sichuan province, which climbed from rank 20 in 2015 to the third rank in 2016 by increasing the revenue of pesticides from USD240 million to USD552 million. The first rank from 2015, Jiangsu Huifeng Agrochemical, fell to the fifth rank in 2016.
The largest pesticide formulation enterprise in China in 2017 is Shenzhen Noposion Agrochemicals, which is located in Guangdong province and stated a pesticide revenue of USD265 million in 2016, which is a decline from the year 2015. The company is ranked 19 on the list of China's top 100 pesticide enterprises. Second and third ranked top pesticide formulation enterprises in China are Guangxi Tianyuan Biochemistry and Jiangsu Rotam Chemistry, respectively.
Outlook for China's agrochemicals industry
According to CCM, it might be only a matter of time for the second round of price hikes to arise throughout the Chinese pesticide technical market, given the tightening market supply, increasing global demand, and supports from new pesticide policies.
The first quarter of 2017 saw surged prices of pesticide technical as increasing environmental pressure restrained the manufacturing of pesticide technical and related intermediates. Yet, this uptrend didn't continue into Q2, since sales went flat and prices of some products also slid. Furthermore, most pesticide technical sellers are now consuming their inventories.
However, market supply may not increase significantly in H2, given the challenges brought by the new Regulations on Pesticide Administration as well as environmental inspections conducted on a more regular basis. As the current inventories are depleted, it will be only a matter of time for the second round of price hikes to arise throughout the pesticide technical market, which is very likely to come in Q4.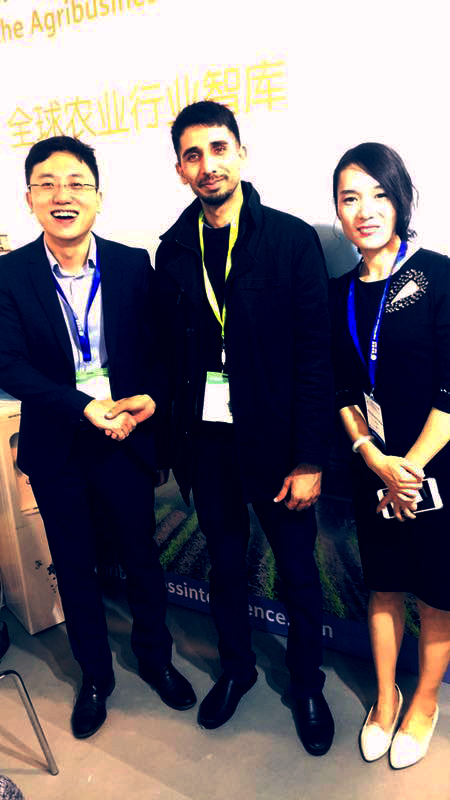 Environmental regulations have posed significant impacts on domestic pesticide industry in 2017. China's environmental policies always work well in regulating market. Stringent administration helps cut out small-sized or even unlicensed producers and favours the development of leading enterprises.
Global demand is going to increase, particularly glyphosate and dicamba. Since 2013, global pesticide inventories have been consumed at greater speeds, with total amount down for 3 consecutive years. As of the end of 2016, many international agrochemical giants hit a record low inventories over the past 5 years
As their de-stocking comes to an end, these enterprises will soon start a new round of re-stocking, likely to boost demand for pesticides exported from China. Particularly, As glyphosate-resistant weeds get wider spread, it is time for glyphosate-containing mixtures to take centre stage. Foreseeably, dicamba products will boom in the coming 3 years.
Additionally, growth will be also seen in glyphosate sales due to the ban of paraquat and promotion of glyphosate + glufosinate-ammonium mixtures. Still, glyphosate products have great market potential, given its high production technological thresholds and stable global production capacity in the coming 2 years.
New Regulations on Pesticide Administration will benefit leading pesticide manufacturers. Impacted by the agricultural supply-side reform, Chinese pesticide industry is estimated to record slight sales growth in H1 2017.
A downtrend in overall pesticide supply continued on into H1 2017. According to the National Bureau of Statistics of the People's Republic of China, the national output of chemical pesticides decreased by 3.7% YoY to 1.55 million tonnes in Jan.–May 2017.
In H1, domestic pesticide industry kept its pace with the international market. In the short term, small- and medium-sized pesticide producers will face heavy business pressure. There will be a tough process for them to transform into whole-course agricultural service providers or specialists in certain parts. However, the intensive policy update will better regulate the market and provide legal support to the sound and sustainable development of the entire industry, which can help improve production concentration and offer leading enterprises more business opportunities in the long run.
Notably, the new Regulations on Pesticide Administration and its supporting rules require all pesticide enterprises and users to establish traceable e-standing books. In other words, a traceability system will be set up covering the entire pesticide industrial chain, favourable for cracking down on counterfeit pesticides, regulating market orders, and improving the profitability of leading enterprises.
For fertilisers, the practice of replacing chemical fertiliser with organic ones is expected to extend to the whole country after 2020, significantly decreasing its usage. Some industry insiders have estimated how much chemical fertiliser usage will fall based on data from the National Bureau of Statistics. In 2015, the amount of chemical fertiliser used on fruit, vegetables and tea was about 24 million tonnes, based on a total national usage amount of 60.23 million tonnes and a proportion of 40%. With the implementation of the new policy, the chemical fertiliser usage amount could be reduced by 5 million tonnes if a country-wide decrease of 20% in fruit, vegetable and tea production areas is assumed; the reduction could even be as high as 12 million if calculated by a decline of 50%.
However, there are still many difficulties in the replacement of chemical fertiliser at present, including the exact way with which to replace it. According to experts, China produces about 16 million tonnes of commercial organic fertiliser, only 5% of which are effective nutrients. In other words, there are effectively only 800 thousand tonnes of nutrients present in 16 million tonnes of commercial organic fertiliser, which is far less than the 5 million tonnes of chemical fertiliser. What's more, some regular organic fertilisers, such as chicken and pig manure, contain high levels of antibiotics, which may threaten public health via the food chain.
Reportedly, China's total organic fertiliser resources reach 70 million tonnes, and the current rate of use of these resources is only around 40%. At present, there are 4 main ways to utilise organic fertiliser resources nationally: straw incorporation, compost, commercial organic fertiliser and green manure. It is currently unclear in which proportions these methods would replace chemical fertiliser. However, if more importance were placed on commercial organic fertiliser, China would likely achieve a large increase in the production of commercial organic fertiliser over the next few years.