The official data from China Customs reveals that in October. China exported more than 2, thousand tonnes of corn with an average price of USD300.26/t. Comparing this with the export volume and price of corn in September, the first went up by 45.60%, while the latter witnessed a climb of 34.15%. Calculating the export value of corn in October, the total number exceeded USD650 thousand, which represents almost a double in the increase from previous month.
In 2016, the export price of Chinese corn was fluctuating highly, falling from August onwards until March 2017. From March to September 2017, the export prices of corn hovered over a historically low level until the price surge in October.
China's export price of corn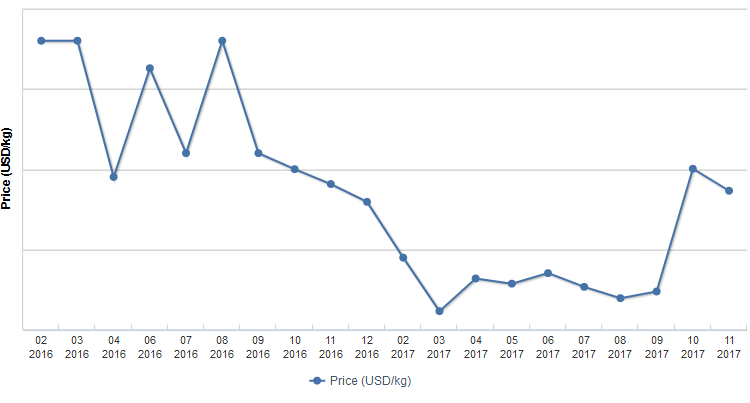 Source: Tranalysis
Remarkably, the high export volume of corn in the middle of 2017 was supported by China's shipments of corn to North Korea, which have surged as the nation got in the centre of a global nuclear standoff while struggled with a drought at home. Corn exports to North Korea increased 4,586 percent in August from a year earlier to 14,057 metric tons, accounting for 97% of the total, according to Customs Data.
There are several reasons why China's corn export price has started surging in the last quarter of the year 2017. First of all, in 2017, the corn planting areas in the country have been reduced dramatically, especially targeting the farms with low-quality corn. According to governmental officials, China plans to cut its corn areas by more than 3 million ha in the period of 2016–2020. Last year, grain corn areas were already cut by more than 2 million ha.
What's more, thanks to exports and auctions, huge corn stockpiles were reduced to some extent. Export volume of corn hit a new high in 2017, and combined transaction volumes in auctions amounted to more than 50 million tonnes.
Many feed factories and corn deep-processing enterprises seized quality corn in Northeast China for the future, leading to strong demand. Besides, after the issuance of China decided to expand the production of biofuel ethanol and promote vehicle-use ethanol gasoline, many enterprises expanded fuel ethanol projects.
China's corn stockpile and planting reforms, which indicate a reduced corn output and planting area in China in the past year as well as in the coming years, have resulted in a price gap between Chinese and world supplies, with a difference higher than many investors have forecasted.
As a result of the gap, China has increasingly become a net importer of corn, as the domestic corn was not as competitive as the imports in terms of price. The reasons for the uncompetitive price of domestic corn include rising costs of farmland, labour, agricultural materials, small farm scale, less efficient production and relatively low unit yield. Hence, a large portion of rising domestic output of corn entered into the corn stockpile of the country.
With the seasonal sales peak approaching and more of the stockpile are about to be sold, the pressure on the corn supply will further increase in the next months.
In addition to that, the demand for corn from livestock farmers is decreasing as well, due to the low prices of animals like pigs and poultry. Many corn-processing companies also still rely on their inventories and are less willing to buy new corn from the market.
Increasing supply and sluggish demand will be the driven factors for a further price drop of corn in the beginning of 2018.
About Tranalysis
Tranalysis is an import and export analysis provider for China and globally, offering official Customs data and customized analysis to find out the whole supply chain from the original manufacturer to the end buyer.
Get your export and import analysis for corn and thousand other commodities by going to our Online Shop or contact our team at econtact@tranalysis.com